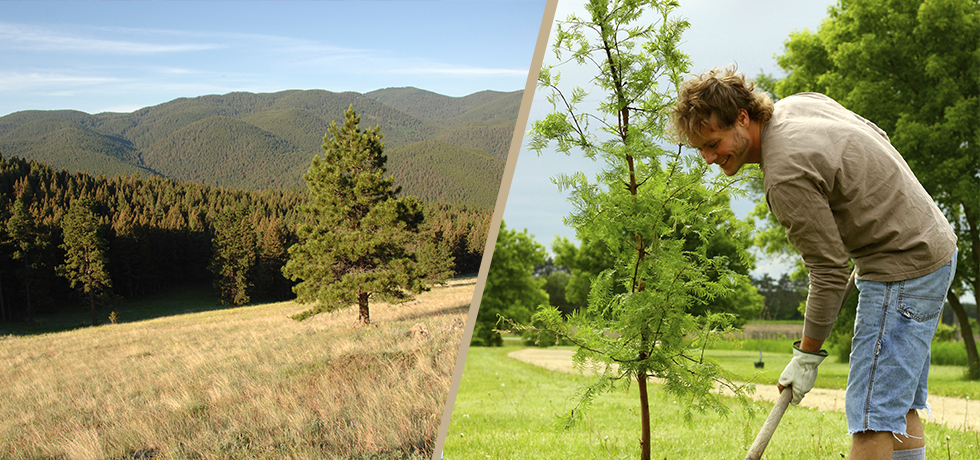 Bozeman Trees
---
Oak Gardens Nursery offers a wide variety of trees and shrubs in the Bozeman and Belgrade area. Whether you want trees for shade, ornamental decoration or fruit producing, our Bozeman Nursery in  has a wide variety for all of your landscaping needs in the Gallatin Valley. From fruit trees, to ornamental trees, to evergreen trees – we've got you covered!
Planting trees can be a very rewarding experience and can bring so much beautiful life to your yard or garden. Imagine stepping out into your yard to harvest apples from a tree heavy with ripe fruit – quite literally enjoying the fruits of your labor! Or, enjoying an early morning cup of coffee on your porch being shaded by the new, growing evergreen tree that you planted. We love helping our Bozeman and Belgrade clients out with creative landscaping ideas or simply picking the one perfect tree to complete their space.
Our friendly & knowledgeable staff will make sure you find everything you need to meet your gardening and landscaping needs. Whether you are giving a tree as a gift to a friend, planting your own tree, fertilizing a lawn, planting a vegetable garden, or planting flowers, you'll find what you need at Oak Gardens… Not your ordinary garden center!
Evergreens
Juniper
Larch
Pine
Spruce
Yew
Fruit Trees
Apple
Apricot
Cherry
Pear
Plum
Ornamental/Shade
Ash
Aspen
Birch
Caragana
Cherry-ornamental
Chokecherry
Crabapple
Elm
Hawthorn
Honeylocust
Horsechesnut
Lilac
Linden
Maple
Japanese Maples
Oak
Ohio Buckeye
Plum Ornamental
Poplar
Serviceberry
Viburnum
Willow
New to landscaping / tree planting or simply looking for some help?
If you are new to gardening, landscaping or tree planting – it can be daunting – we understand. But, it can also be really exciting, fun and relaxing  – and the great news is the experts at Oak Gardens are here to help you along the way of your new gardening journey! We've got lots of starter trees and shrubs that you can start growing right away so you'll be able to enjoy them in your garden or on your lawn this summer. You'll find that our staff is friendly and helpful, and we also have experts available for hire if you'd like us to come out and help with the planning, too.
Want to share something? We LOVE seeing our clients get creative with their landscaping. If you've created something you're proud of, please share it with us on our Facebook page!
Get started today – We're here to help!
---
We are located only 10 minutes from Bozeman & Belgrade at 4275 Nelson Road, Belgrade MT
Call us at (406) 388-1338   |  Hours: Mon-Fri 10-6, Sat 9-5, Sun 10-4