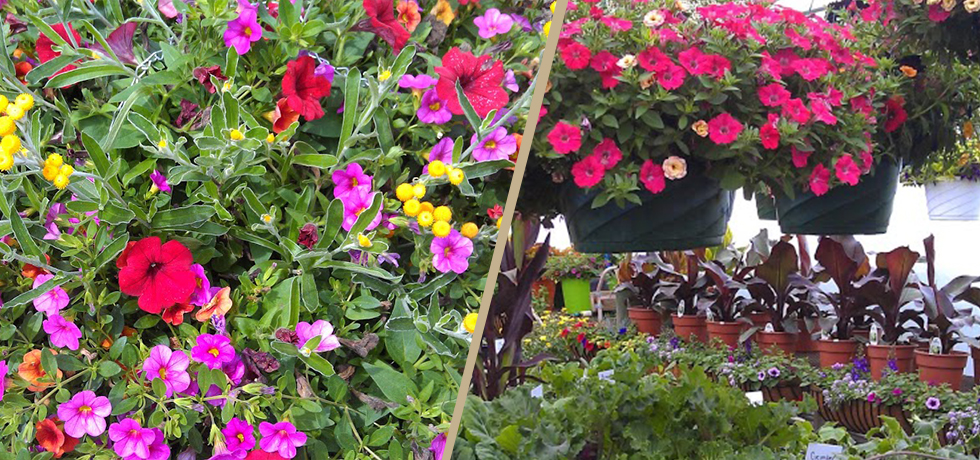 Bozeman Hanging Gardens/Plants
---
Oak Gardens Nursery, Bozeman / Belgrade, MT offers the bright and beautiful flowering baskets to decorate your porch, garden or business.  Have you ever noticed how beautiful Bozeman and Belgrade look in the spring and summer when there are baskets of blooming flowers hanging from poles and terraces? They make a beautiful addition to any porch, deck, patio or business.
Known throughout the Gallatin Valley as the "hanging basket specialists," Oak Gardens Nursery creates and maintains one-of-a-kind flowering baskets for a variety of private homes and commercial clients. Our Bozeman Nursery grows beautiful hanging baskets of all kinds… from the brilliant colors of petunias to rich ivy geranium and blazing autumn chrysanthemum baskets; you are sure to find a favorite to compliment your area.

We make it easy for you!
We've set up a great system to meet the demands of our growing community – and we make it easy for our clients! Each spring, our loyal and satisfied customers bring in their hanging baskets for re-planting. We carefully plant, nurture and grow the custom baskets in our greenhouse until after frost. Then, our happy customers stop by to pick up their lush and uniquely designed hanging baskets to grace their home or business.
Our staff is friendly & knowledgeable and we will make sure you find everything you need to meet your hanging basket needs. Whether you are giving a gift to a friend, wanting to help make your business stand out, or looking to add a little color and vibrance to your porch or deck, you'll find what you need at Oak Gardens… after all, we are the hanging basket specialists!
Interested in hanging baskets? Stop by or give us a call today!
Get started today – We're here to help!
---
We are located only 10 minutes from Bozeman & Belgrade at 4275 Nelson Road, Belgrade MT
Call us at (406) 388-1338   |  Hours: Mon-Fri 10-6, Sat 9-5, Sun 10-4